331 441 551 661 881 Tempered Laminated 12mm safety glass sheet in China
331 441 551 661 881 Tempered Laminated 12mm safety glass sheet in China
Product Description
Products description
The Laminated Glass is one kind of safety glass made under high temperature by interlaying
PVB membrane between glasses. It can be two sheets or more than two sheets.
Fine performance
1 .Safety
The firm and tough bindings between PVB films and the glass makes laminated glass the safe
glass with excellent performance. Vertically or sideling installed, it can resist the
external impact and prevent penetration. Once broken, the broken pieces will still be stuck
with the middle coatings so as to avoid human injury or property loss because of glass
falling. Moreover, the whole glass still keeps its integrity and can continue to resist
impact and provide a shelter from wind and rain.
2.Sound insulation
Laminated glass can effectively reduce the noise with the range of the whole sound wave
frequency. The special laminated structure and PVB film of laminated glass can stop the
sound wave, thus effectively preventing the expanding of the sound. It has excellent sound
insulation effect and can effectively reduce the high and low frequency noises of cars,
human voices and planes.
3.Performance of controlling sunshine and ultraviolet radiation
PVB coating has the performance of ultraviolet radiation filtration. The PVB middle coating
can absorb at least 99.5 ultraviolet radiation. Special PVB coating can add the performance
of controlling sunshine penetration to the laminated glass, thus preventing giddying and
effectively block the ultraviolet radiation. And the indoor furniture, plastics, textile,
carpet, arts, ancient cultural relics and commodities can avoid fading and aging because of
the ultraviolet radiation emission.
4.Decoration effect
Elegant decoration effect can be achieved by putting dragon pattern paper or PET coatings
printed with all kinds of designs in the laminated glass. The ice-cracked glass with
special decoration effects is a particular kind of application of laminated glass.
5.Energy conservation
The building laminated glass made of PVB coating can effectively reduce the transmission of
sunlight and the air conditioning energy consumption. Of the same thickness, the laminated
glass made of PVB coating of dark low transmission ratio has stronger heat insulation
performance.
6.Security
Laminated glass can protect human beings and their property. It can effectively resist
crimes like stealing and violent intrusion. Aiming at destroying behaviors or resisting
violent break-in, laminated glass has the corresponding intensity. Laminated glass cannot
be single-side cut. It is very hard and will be easily caught when trying to break into a
house by cutting.
7.Bulletproof and explosion-proof
PVB has excellent toughness. When the laminated glass gets fierce external impact, it can
absorb and bear the impact caused by the bullet or explosion, preventing the bullet or
shrapnel from penetrating through the glass. The chippings of the bottom glass after
coating treatment will not splash and hurt people.
8.Anti-shock and hurricane-resisting
The laminated glass compounded by SGP special middle coating can resist the hurricane and
lighten the disaster of earthquake.
9.Application scope
The laminated glass is widely applied in hotel, restaurant, airport, hospital, lab,
scientific research institute, vehicle, glass partition, stadium, and the buildings where
there is a large crowd and the damage easily happens due to human bodys easy touching.
 10.Speicification
Product: Ordinary transparent, color laminated, and laminated tempered, heat-strengthened
laminated, laminated bending Glass and bullet-proof glass and the aquarium glass. 
 
Features
The security of
Can not be used because glasscutter of Laminated Glass has been installed on the implementation of effective cutting, and other tools used in normal breakdown Laminated Glass time-consuming long, sound great. Through cutting or breaking it Laminated Glass is very difficult to enter the room and it can be easily found. Laminated Glass for vandalism, theft and violence are strongly against invasive role.
Anti-hurricane and earthquake
Laminated Glass as a result of the breakdown or the breakdown in the post, not falling debris remains embedded in the overall performance of in situ to become hurricanes and typhoons and the earthquake zone of the building materials and willingness to adopt it.
ullet-proof, anti-sexual
Multilayer Laminated Glass can be used to create different levels of bullet-proof, anti-glass, bullet for the needs of and violence against local attacks.
Reduction of
PVB film for the role of acoustic barriers to Laminated Glass can effectively block the spread of sound and reduce noise.
Sun control features
Laminated Glass (in particular coloring Laminated Glass) can weaken the transmission of sunlight, thereby reducing the cooling energy consumption. At the same time, the sun glare can be reduced without causing color distortion.

UV characteristics
Laminated Glass UV barrier role of high (up to 99%), effectively prevent valuable indoor furniture, curtains, displays or other items subject to ultraviolet irradiation.
Varieties, specifications, dimensions
Product: Ordinary transparent, color laminated, and laminated tempered, heat-strengthened laminated, laminated bending Glass and bullet-proof glass and the aquarium glass.
Max size: 2500mm * 6000mm
Thickness :3-19mm
PVB film Color: transparent, white, gray, blue, green, pink and so on.
PVB Film Thickness :0.28-3 .04 mm
Standard
GB9962-1999 Laminated Glass
Application
Automotive windshield, building doors, windows, ceilings, glass walls, finance, jewelry stores and so on.
Anti-theft glass, furniture glass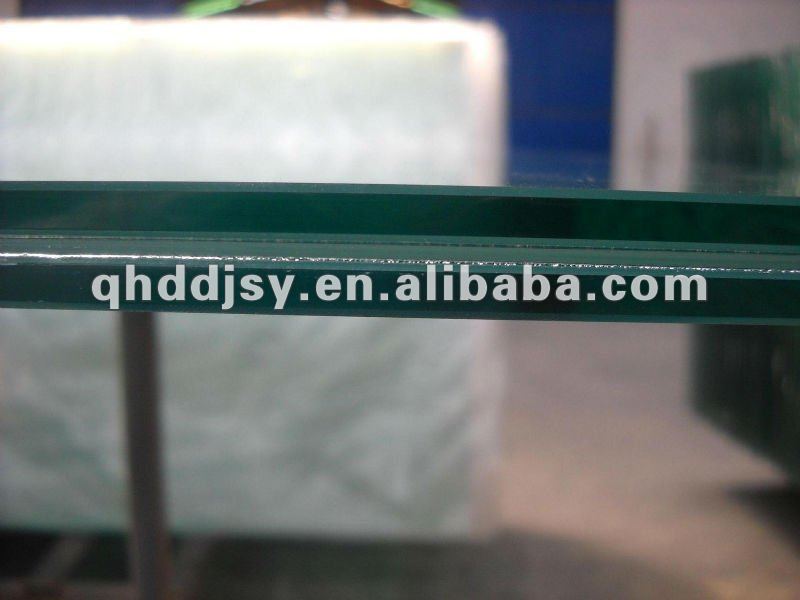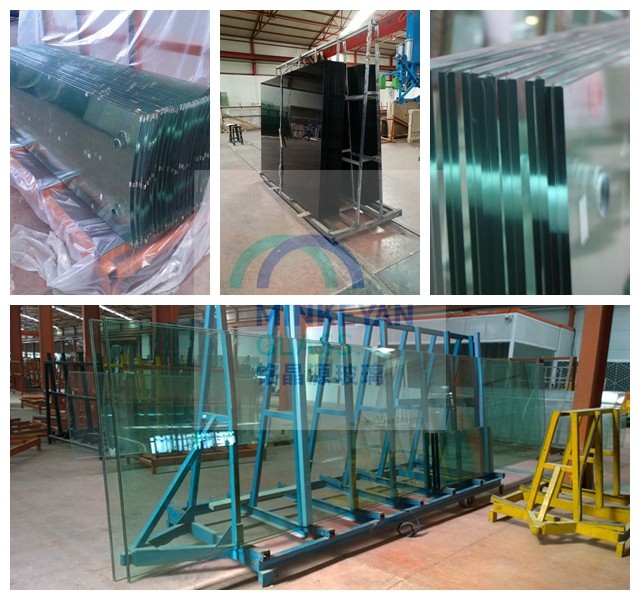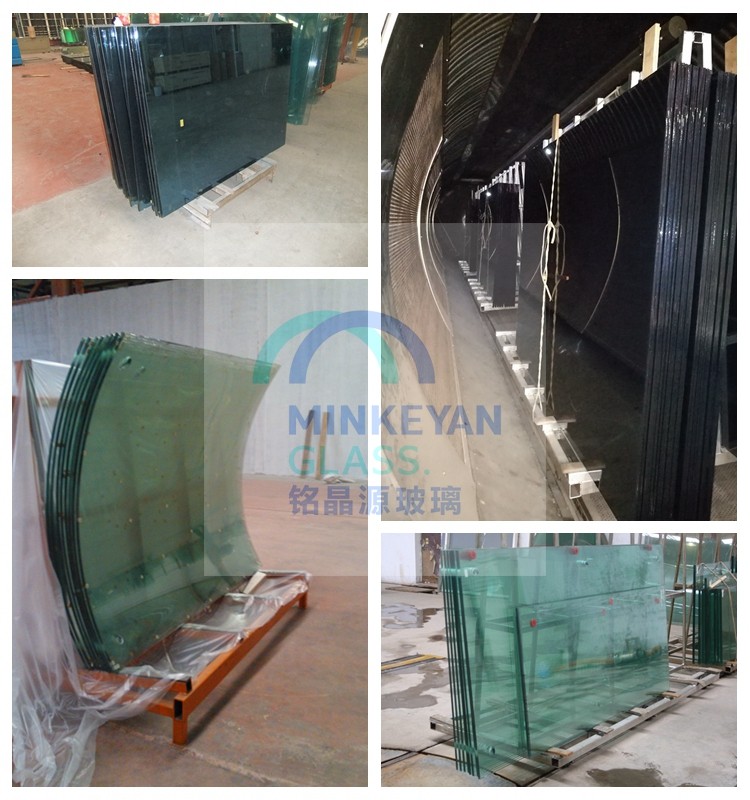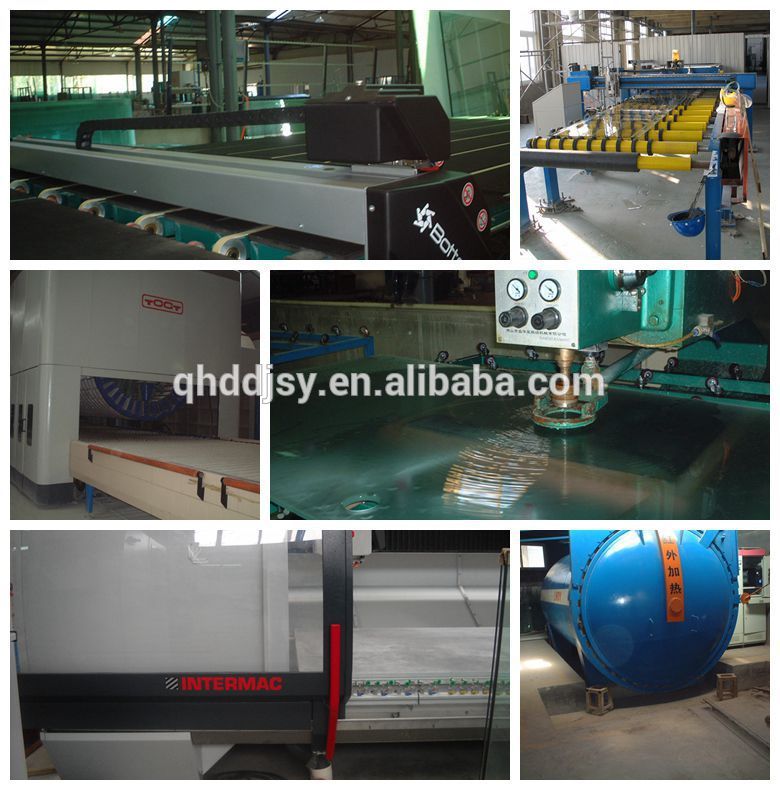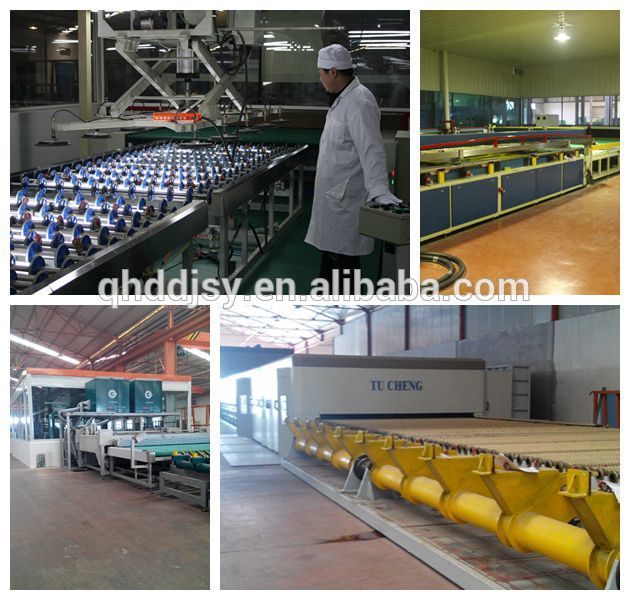 Wooden crates with paper between two glass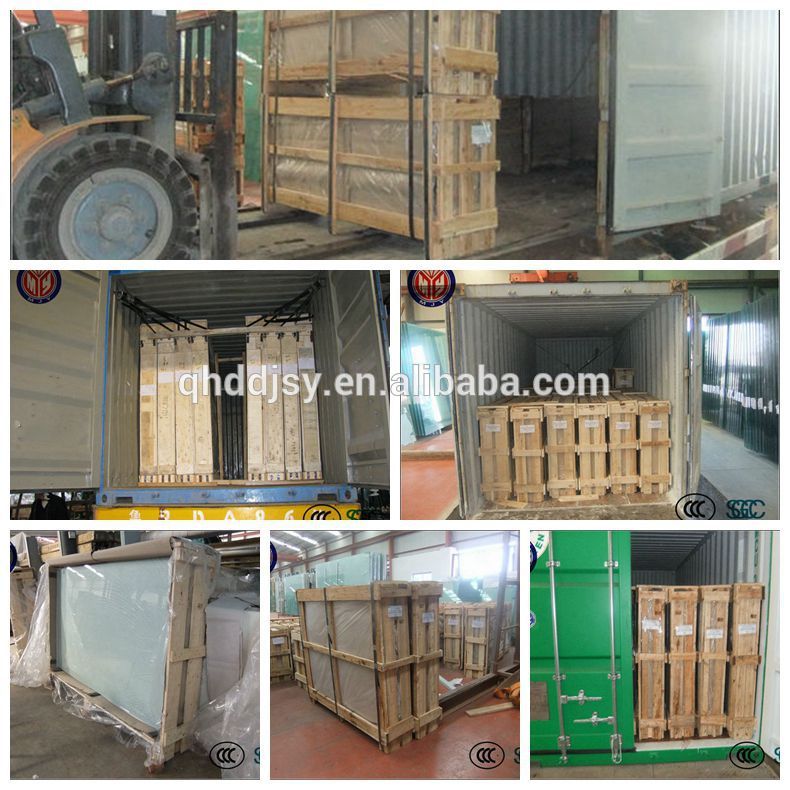 CCC,SGCC,ANSIZ97.1-2009,CGSB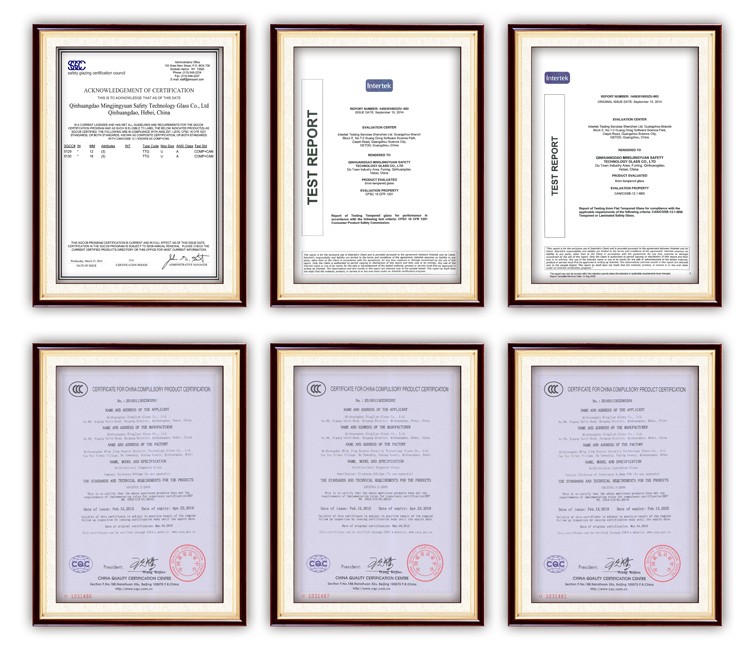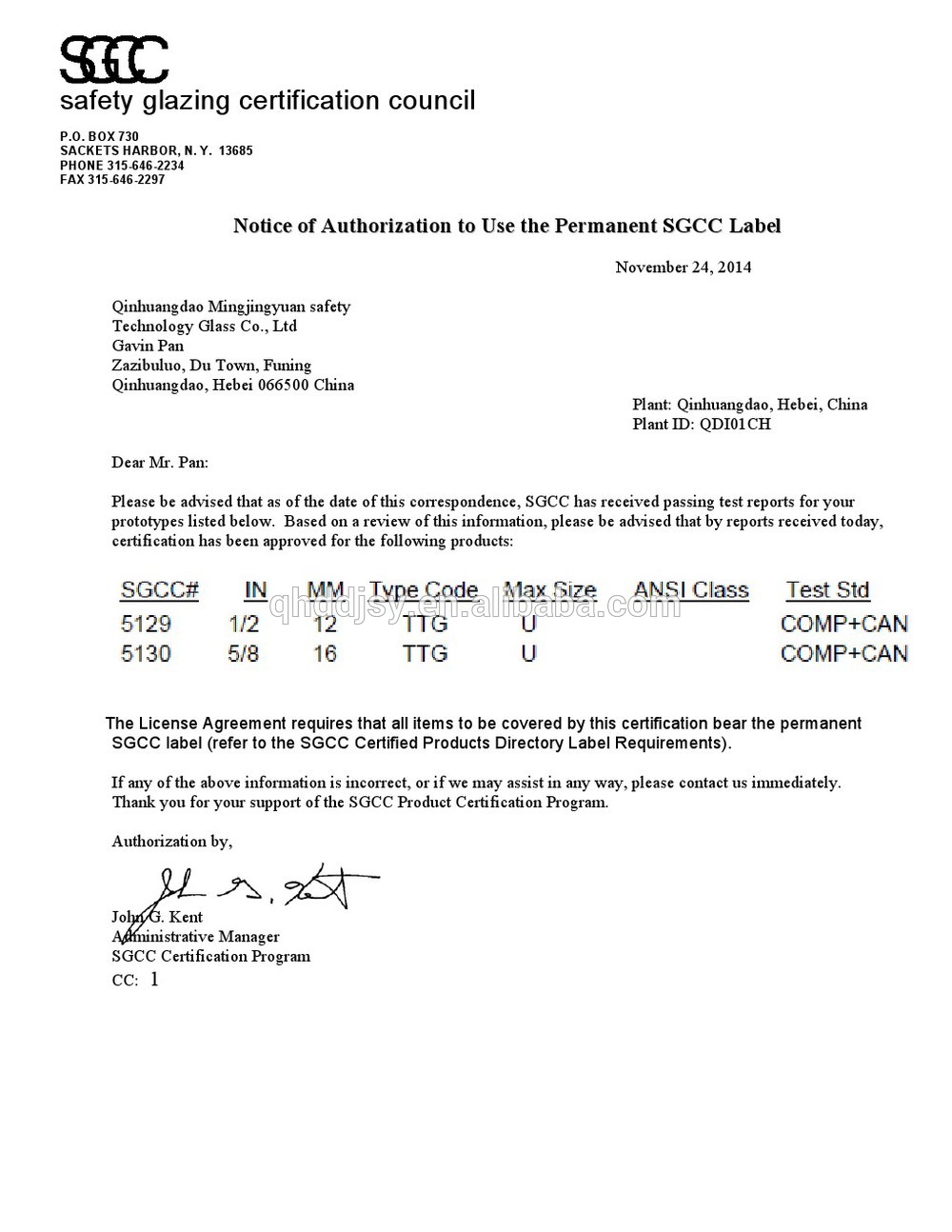 Crystal Cao
Mobile/Wechat/Whatsapp:+86-13582800847
skype:crystalxbin
Your professional glass suppler – Minkeyan Glass
Contact us if you need more details on Laminated Glass. We are ready to answer your questions on packaging, logistics, certification or any other aspects about Laminated Glass 12mm、Laminated 12mm Safety Glass. If these products fail to match your need, please contact us and we would like to provide relevant information.
Product Categories : Laminated Glass