Home > Industry Information > Introduction to the three characteristics of PVB materials and the six application channels
Introduction to the three characteristics of PVB materials and the six application channels
2021-05-17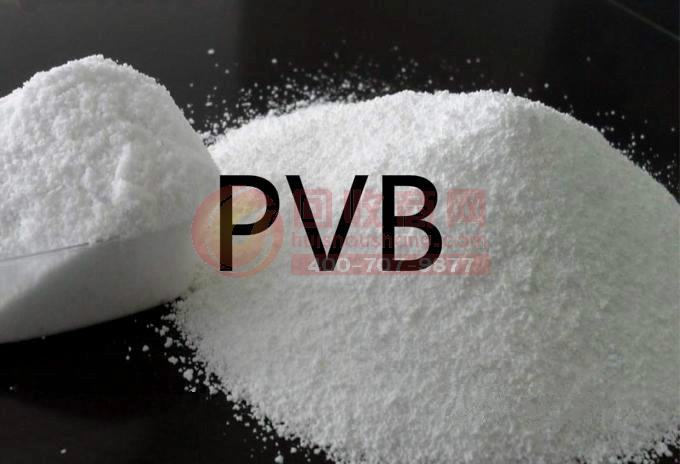 What is PVB material?
Polyvinyl butyral resin, abbreviated as PVB, is a solvent-based resin synthesized by acetal reaction of polyvinyl alcohol (PVa) and butyraldehyde under the action of coal. PVB has good film-forming properties. PVB-formed coatings have excellent properties such as high transparency, elasticity, toughness, strength, oil resistance, flexibility and low-temperature impact resistance. They are widely used in automobiles and buildings. Glue safety glass interlayer film, rust primer, baking varnish, wood lacquer, printing ink, electronic ceramic and printed circuit board adhesive, metal and metal, metal and plastic adhesive, hot melt adhesive modifier, textile Iron dimension waterproof processing.
Characteristics of PVB:
1, thermal properties
The glass transition temperature of polyvinyl butyral (PVB) resin is from 50 ° C with low coincidence to 90 ° C with high coincidence; this glass transition temperature can also be adjusted to 10 by adding appropriate amount of plasticizer. Below °C.
2. Chemical reaction properties
Any chemical that reacts with the secondary alcohol also reacts with PVB. Therefore, in many PVB applications, it is often used with a thermosetting resin to bridge the hardening of the hydroxyl group of PVB. To achieve chemical resistance, solvent resistance and water resistance. Of course, depending on the type of the thermosetting resin and the mixing ratio with the PVB, a coating film having different characteristics can be adjusted.
3, solubility characteristics
PVB is soluble in solvents such as alcohols, ketones, and esters, and the solubility in various solvents varies depending on the composition of the functional groups of PVB itself. In general, alcohol solvents are easily soluble, but methanol is more difficult to dissolve in high acetal groups; the higher the acetal group, the easier it is to dissolve in ketone solvents and ester solvents; PVB is easily soluble in alcohol ethers. Solvent; PVB is only partially dissolved in aromatic solvents such as xylene and toluene; PVB is not dissolved in hydrocarbon solvents.
PVB application:
1, epoxy resin additives
PVB can be used as an additive for epoxy resins such as composite adhesives to improve the rheology of epoxy resins and improve the toughness of epoxy resins.
Applicable specifications: B06HX, B08HX, B08SY.
2, single liquid antirust primer
Single-liquid anti-rust primer, because it has a small amount of phosphoric acid, it has a long storage time and can be used for special applications such as impregnation. It has good preservability and is convenient to use. It can be applied alone or combined with other resins. The galvanized iron, zinc, aluminum, glass, wood and other materials have good adhesion, which can achieve rust, water, chemical resistance and improve the bonding strength of the topcoat and the substrate. Common applications include metal (especially aluminum foil, aluminum) printing inks, electro-zinc protective films, and glass colored inks.
3, ceramic adhesive
Due to its special particle porosity and surface properties, PVB can be quickly dissolved in most polar and non-polar solvents, and gives the embryos considerable strength and softness. In addition, PVB and Various commonly used solvents are compatible with plasticizers and can be completely burned during the sintering process. Therefore, PVB is often used as a stick in ceramic blade forming or other ceramic-related processes (such as extrusion, injection, granulation, etc.). The use of the agent.
Applicable specifications: B05SY, B06SY, B08SY, B03HX, B05HX, B06HX, B08HX.
4, printing ink
Because PVB has excellent film-forming properties, adhesion, flexibility, and can be used as an adhesive for letterpress printing inks, letterpress printing, and offset printing inks; in addition, PVB is soluble in lower boiling solvents for fast printing.
Applicable specifications: B03HX.
5, powder coating flow additives
Since the powder coating does not require any solvent, it can save solvent, storage and transportation costs, energy used for solvent evaporation in traditional coatings, and avoid air pollution. In recent years, there has been an increasing trend in application; epoxy resin-based powder Coatings, PVB addition can increase the edge-covering effect and the strength of the coating.
Applicable specifications: B03HX, B05HX, B06HX, B08HX, B05SY, B06SY, B08SY.
6, plastic products topcoat / gloss protective coating
In addition to alcohol solvents, most solvents will erode the surface of plastic products; while PVB is very soluble in alcohol solvents, it is most suitable for coatings on the surface of plastic products such as PS, PMMa, PC, aBS. The surface of the plastic product is coated with PVB, thereby protecting the film from increasing strength, gloss or dyeing adhesive.
Applicable specifications: B03HX, B05HX, B06HX.
PVB is a multi-functional Polyvinyl Butyral resin by a chemical reaction and synthesis.
With high transparency, good toughness, flexibility, low temperature to fight resistance, and resistance to ultraviolet radiation, water, oil, anti-aging. PVB has very strong adhesiion to many kinds of materials such as: glass, metal, plastic, wood, leather and other materials, also has pigment dispersion and the excellent solubility of the resin.
PVB has been very widely used in the automotive and architecture safety glass interlayer , paint, ink, resistors, batteries, circuit boards, hot melt adhesive, the modified agent in the processing of textile fiber, etc.
Pvb Resin
,
Polyvinyl Butyral Resin
,
Recycled Pvb Resin
,
Polyvinyl Butyral Properties
Tempered Glass Co., Ltd. http://www.hntitaniumdioxide.com